Our tilting cargo bike for professionals
Since our bikes are built to order, they can be highly customised. Choose your Shimano electric drive and your equipments to fit your individual needs and preferences.
Available in two widths and 3 lenghts, the Ili Artisan comes either open or with a non-slip board measuring up to 800×800 mm for the larger model. A solid box of your choosing can be fitted after feasibility study.
with STEP 6100 and Deore 10-speed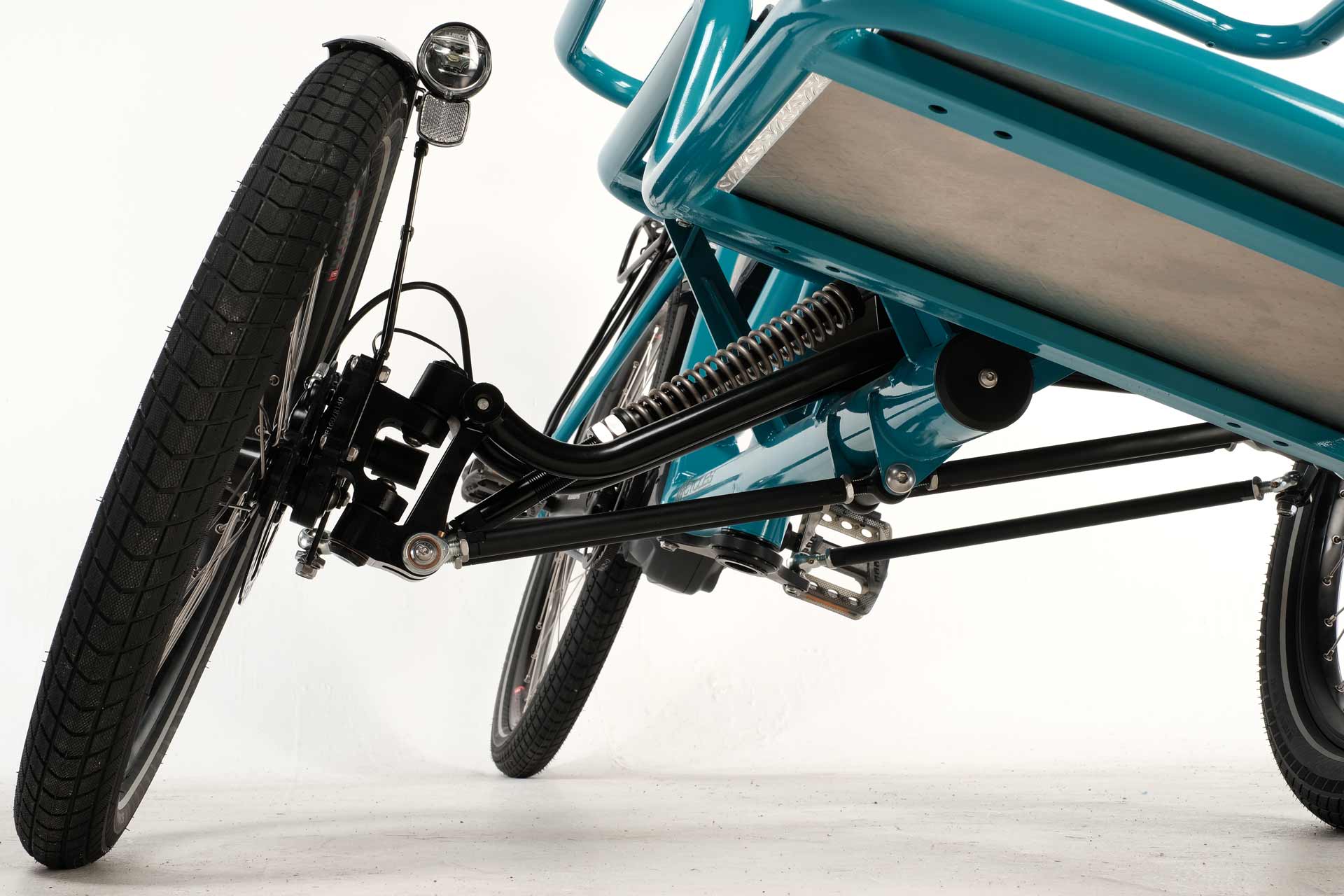 Our unique tilting mechanism is designed to provide stability and manoeuvrability at the same time. Lean in the curves, and let the counterbalancing mechanism help you back to neutral position,and stabilize the bike when stopped. Last but not least, the mechanism can be locked in position, thus replacing a kickstand. Enjoy the advantages of a three-wheeled cargo bike that is just as intuitive to ride as your regular bike.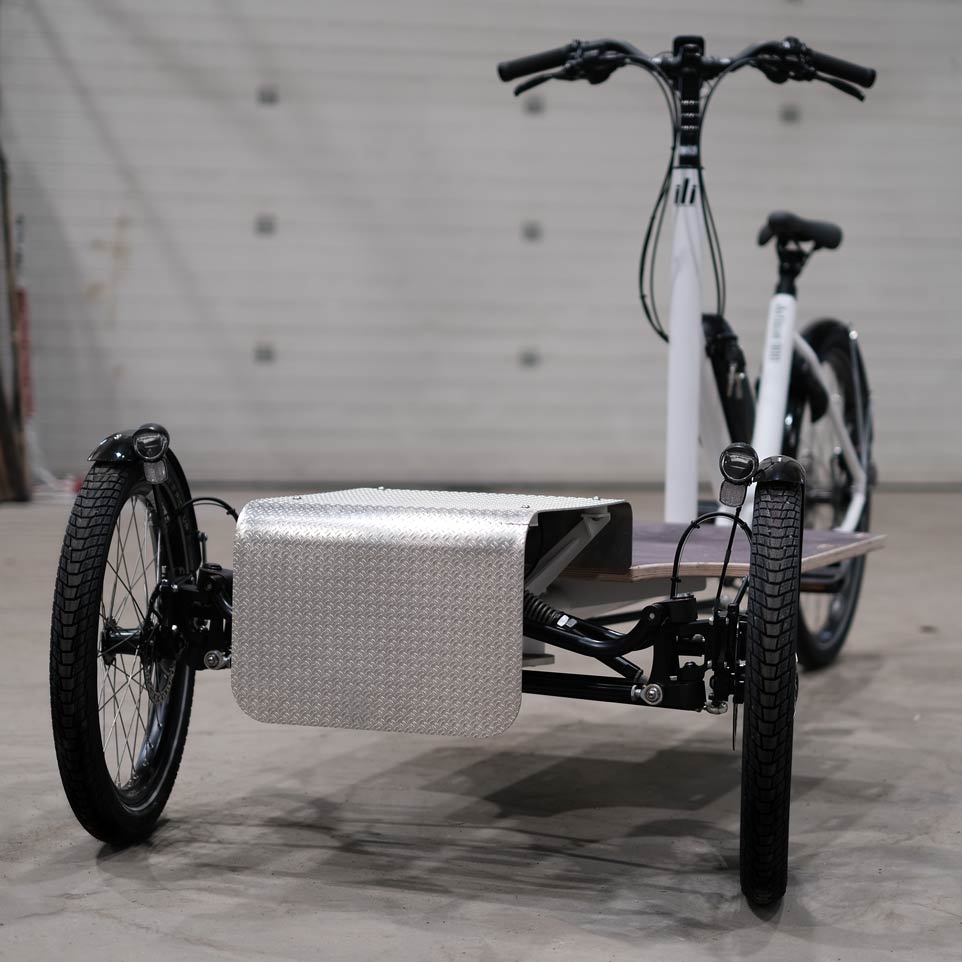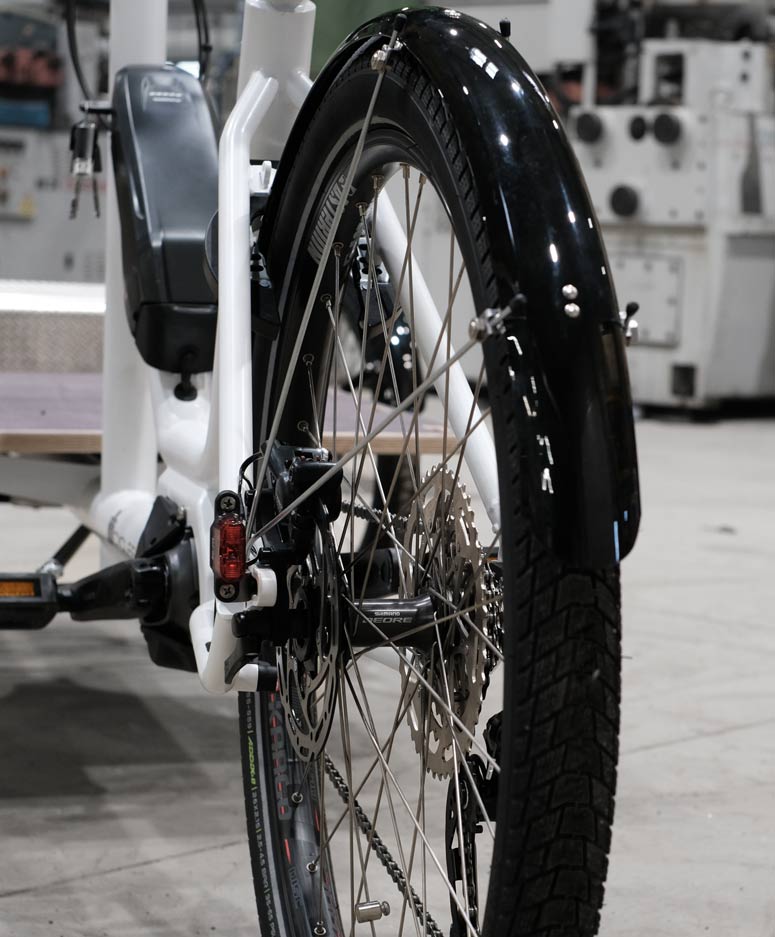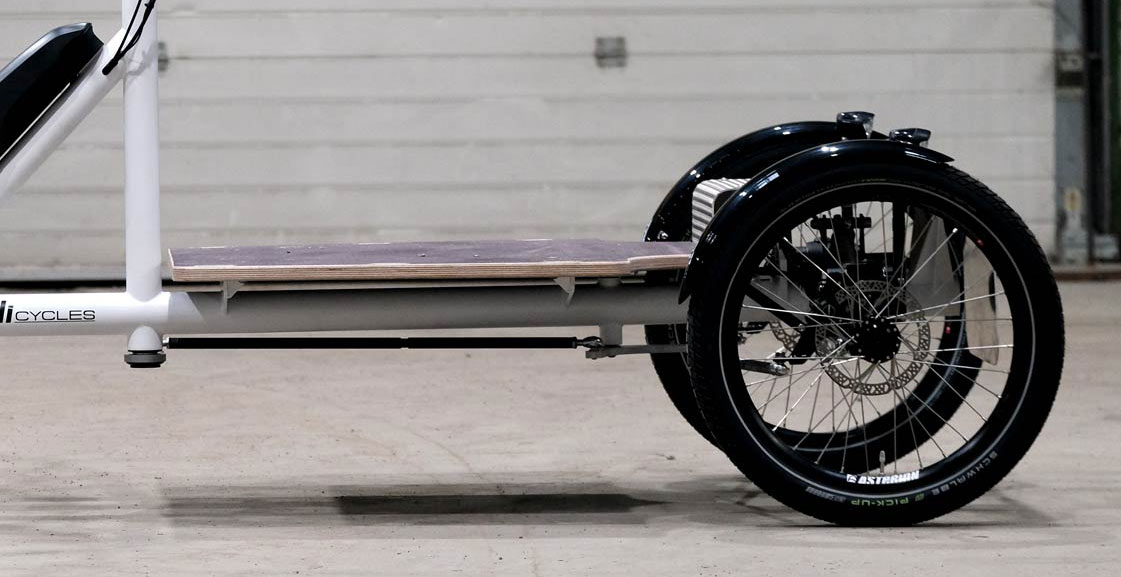 Frame steel
Colour black or white, other colors on demand
Axle tree steel, trapezium structure
Length M : 235 cm (92.5″), L : 250 cm (98.5″) and XL : 265 cm (104″)
Board dimensions length M : 50 cm (19.5″), L : 65 cm (25.5″) and XL : 80 cm (31.5″), max. width 80 cm (31.5″)
Width 75 cm (29.5″) or 90 cm (35.5″)
Max. cargo load 150 kg (330 lb)
Front hubs Ili Cycles
Rear hub Shimano DEORE or Shimano NEXUS 5 – DI2 on demand
Rims Mach1 KARGO 20/26'' 32-hole, Mach1 stainless steel spokes
Tyres Schwalbe PICK UP 2,10'' (front x2) and 2,35'' (rear)
Hydraulic brakes Tektro HD-T525 (front x2) and HD-T 530 (rear), 160 mm diameter, with parking position
Mudguards Glossy black Orion 58 mm
Headset Semi-integrated Stronglight 1''1/8
Electric drive Shimano STEPS 6100 ­or Shimano STEPS EP8 on demand
Drivetrain Shimano DEORE 10-speed or Shimano NEXUS 5 – DI2 on demand
Chain or Gates belt on demand
Saddle Royale LANCIA or Brooks B17 on demand
Seatpost 350 mm or quick-release, anti-theft seatpost on demand
Lights B&M Lumotec 40 Lux (front x2) and SMALL LIGHT (rear)
Rear rack Racktime ADD-IT on demand